This is Part 3 of my four-part guide to Covid masks. In Part 1, I introduced some concepts and explained the limits to my knowledge, and in Part 2, I went over the different types of masks. In this part, I'll go into a bit of detail about how to choose which masks to buy.
As I said before, I'm doing this with some trepidation because I'm not entirely sure this is the right thing to do. That's because, to be very clear, I am not an expert in this field. I've seriously considered not posting anything at all for fear giving out bad information. But the thing is…I think I know some stuff that might actually help people.
So, now that I've fulfilled my duty of explaining my level of knowledge (not a lot, but more than some) and warning you that I might not know what I'm talking about, even though I think I do, let me see if I can offer you some advice about masks.
If you are a professional, or knowledgeable amateur, who knows more about PPE specifically or medicine in general than I do, and you see that I've got something wrong, please let me know.
How to Buy Masks
Note that I'm not reviewing masks, and I'm not going to recommend specific products (although I will talk about a few of them).
In part, that's because the mask market is confusing right now. The demand for healthcare-style masks (procedure masks and filtering facepieces) is so high that you never know what brands and models of masks will be available from one week to the next. If you want to buy them, you can't just decide on what mask you want and then search for it on sale, because most masks are out of stock. Instead, you have to find sources that have masks, and then figure out if you want what's available. I've tried to write this to help you decide.
(The cloth mask market is even more confusing — there are no standard and no rules — so I'm going to punt to someone who understands it better.)
I'm also avoiding specific recommendations because, frankly, I don't want to take responsibility. It's your health we're talking about. You need to understand what you're buying and decide whether it will work for you.
Buying Cloth Masks
There are many different types of cloth masks, and I've only tried a couple, so I don't have a lot to say. Cloth masks alone are moderately effective at source control, but have not usually offered much protection for the wearer. That might be changing, however, as mask makers are learning more about the technology.
You can google around to find advice on which materials work best for this, but in general you want a mask that fits against your face comfortably, provides a snug seal, and is made of multiple layers of different finely-woven materials. Furthermore, experts generally recommend that one of the inner layers should be a "non-woven" material. There are a variety of such materials, using various glues and bonding techniques, but in practice when discussing respiratory masks, this means a "melt-blown" material. That's a process where melted microscopic strands of material are blown together so they form a layer of porous material that acts as a filter.
If you want to learn more about these types of masks, I recommend this cloth face mask review by Joanne Chen at Wirecutter. It's well-written and provides specific mask recommendations, while also including an overview of mask design and desirable features. She's spent a lot more time learning about cloth masks than I have.
One concern with fabric masks is that they are exposed to the elements and to your damp, warm breath, and if they become wet and moldy, that will do nothing good for your respiratory health. So to keep reusing a cloth mask, you'll have to wash it periodically, which can be a problem, because filter materials aren't usually washable. One solution offered by mask makers is a replaceable filter that fits into a pocket in the mask.
The other solution is to buy disposable masks instead…
Buying Procedure Masks
Procedure masks come in two types: Medical and non-medical.
Non-medical basically means they have not been approved for medical use, so they cannot be advertised or labeled for medical use…which doesn't mean you can't use them.
In the early days of the pandemic, first responders and healthcare workers got all the good masks, but a lot of companies jumped into the mask-making business. Many of them haven't received medical approval, even though their masks are probably just as effective as approved masks.
Or not.
Because they aren't claiming to meet a medical standard, the masks don't actually have to be any good at all. They could be fake procedure masks made from a single piece of cheap cloth that offers very little protection for you or anyone else.
If you've got a box of non-medical procedure masks, and you're not sure about them, you can get some idea if they're any good by cutting them open. A proper mask has a thin outer (usually) colored protective layer, and a thicker moisture-absorbent white layer against your face. And in between them you should find a thin white membrane of filtering material. It's looks and acts like a thin piece of cloth, but it will feel a bit like paper, with perhaps a very slight waxy or rubbery feel when you rub your fingers on it. Of course, this is hardly a lab test. The masks could still be fake.
I think your best bet when buying non-medical masks is to use a reputable supplier and look for masks labeled "selected" or "house brand" or "approved" — which indicates that the supplier is willing to throw some reputational weight behind them and therefore (presumably) they aren't total junk.
In recent weeks, medical quality procedure masks have started to become more available to us regular folks. When this kind of mask is said to be a surgical mask, that means it is designed to provide extra protection for the wearer against splashes of blood or other fluids during a surgical procedure. That's not a feature you need for everyday pandemic wear, but it doesn't hurt anything (except maybe your wallet).
Medical grade masks should have a rating from the American Society for Testing and Materials. The ASTM rates masks at levels 1, 2, and 3 on several criteria, of which particulate filtration efficiency (PFE) is probably most important for Covid-19 protection. Level 1 is 95% and levels 2 and 3 are both 98%. Level 3 masks also offer better protection for sprays and liquids (e.g. blood) which is again not something you need, so I think you would do well with any ASTM Level 2 masks.
Buying N95 masks
N95 masks are the hospital standard for protection against Covid-19, but they are also much harder to find. I would love to get my hands on a few 3M model 1860 masks, but all the high-quality medical-grade N95 masks have been going to frontline healthcare workers. As of this writing, you can't find them anywhere.
(I was at my doctor's office a few weeks ago for a checkup, and even he doesn't have medical N95 masks. The only places I've found that carry them are restricting sales to medical businesses only.)
This leaves you two choices: Use industrial N95 masks, or use KN-95 masks.
Industrial N95 masks
Before the pandemic, industrial N95 masks were easy to get. They were good for things like protecting yourself from inhaled dust from sanding wood or drywall, and people in California stockpiled them to protect themselves from smoke particles due to forest fires. You could buy them at home centers and hardware stores at really reasonable prices.
When the pandemic hit, people were quick to use these as alternatives to medical N95 masks, and as I write this, they're all out of stock at Home Depot, and almost everywhere else. As hospitals and front-line workers started to run out of medical N95 masks, the FDA issued an Emergency Use Authorization (EUA) allowing many NIOSH-approved industrial N-95 respirators to be used for Covid-19 protection. After that, many places that stocked N95 masks would only sell them to medical professionals.
In recent weeks, however, industrial N95 masks have started to make their way back onto the open market. A lot of them are off-brands like this Makrite mask: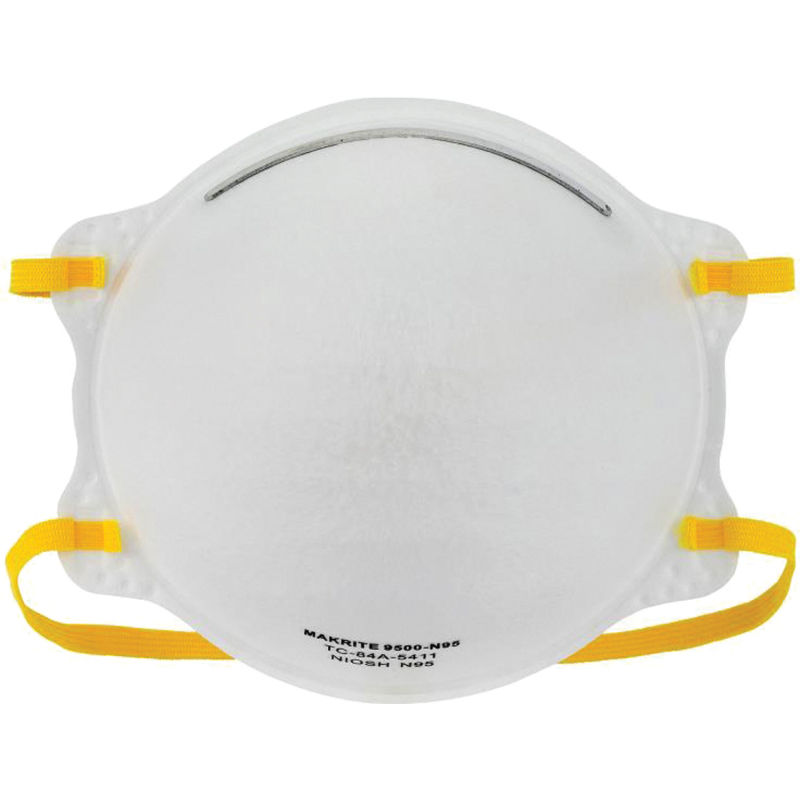 These off-brand masks are usually not as nice as, say, 3M masks, but look, it's clearly labeled as a NIOSH N95 mask, so it's probably safe, right?
It's hard to say. With well-known companies like 3M and Honeywell and Moldex, you can rely on their reputations to ensure the quality of the product you're getting. But with an unknown brand, how do you know if they're legit?
One thing I'd recommend when buying N95 masks is checking if the mask model is on the the Certified Equipment List (CEL) maintained by the National Personal Protective Technology Laboratory (NPPTL), a subdivision of NIOSH. In this case, the approval number, TC-84A-5411, is on the list. You can also search the list by manufacturer or other properties to get lists of approved equipment. As far as I can tell, any mask on the list is approved under the FDA's EUA for Covid-19.
KN-95 Masks
Another alternative to an N-95 mask is a KN-95 mask. The KN-95 standard is the Chinese equivalent to the American N95 standard. It's intended to serve a similar purpose, but the masks tend to be somewhat different in design: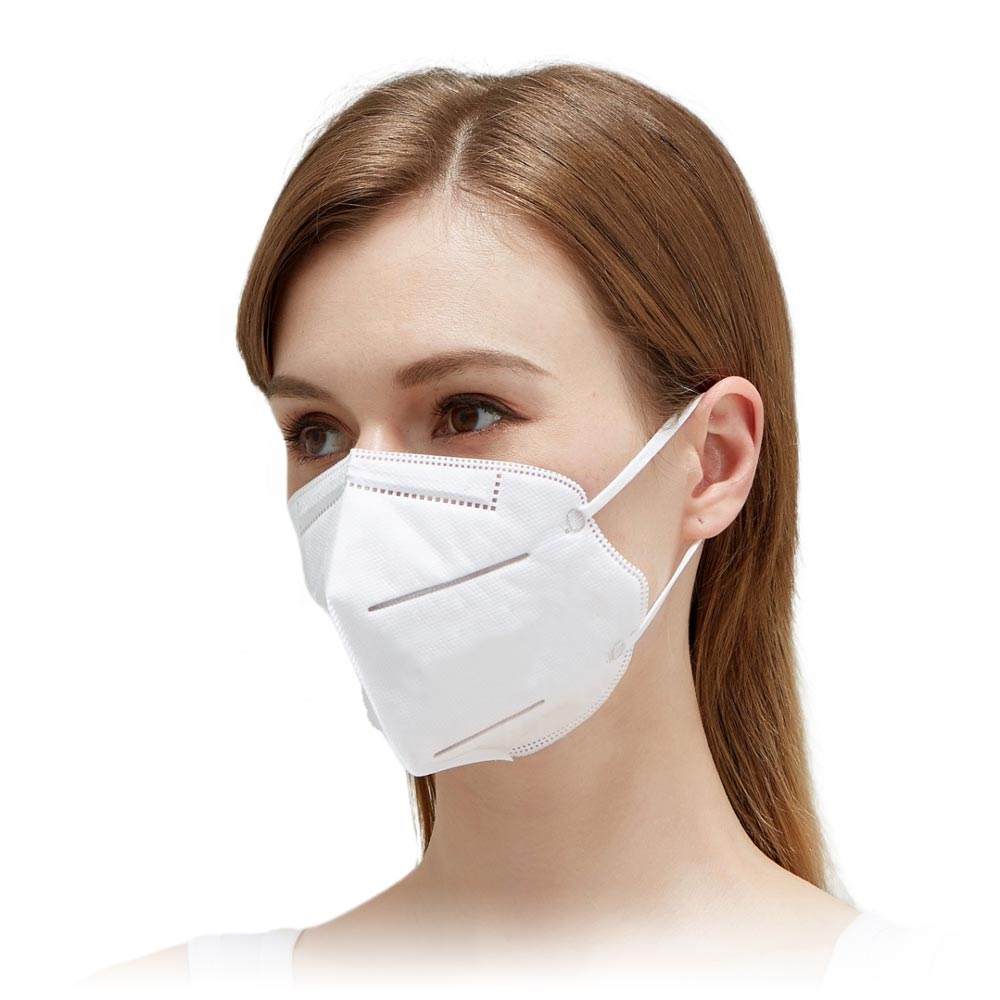 The most visible difference between a NIOSH N95 mask and a Chinese KN-95 mask is that genuine N95 masks are secured with a pair of straps around the entire head (as you can see in the photos and videos above), whereas KN-95 masks are secured with simple ear loops like a procedure mask.
N95 masks are also usually constructed out of a single solid piece of particulate filtration material, whereas KN-95 masks are made from a flexible piece that easily folds flat. You can see the vertical crease on the mask pictured above. (Some medical N95 masks are also made of flexible material, but I don't know much about them.)
As a consequence of these design decisions, N-95 masks tend to be much tighter than KN-95 masks, a difference which many healthcare workers feel is crucial to their protection because it better prevents air from flowing around the mask instead of through it. (The woman in the image above does not appear to have formed the nose-piece correctly over her nose, which would allow air to leak in at the top.)
It's important to note that KN-95 masks do not meet the NIOSH N-95 standard and were not FDA approved for medical use. However, when N-95 masks became scarce during the pandemic, the FDA issued an Emergency Use Authorization (EUA) allowing certain non-NIOSH-approved filtering facepiece respirators, including KN-95 masks, to be used for Covid-19 protection.
Also of concern with imported KN-95 masks is the quality of the particulate filtration material. The independent research organization ECRI has found that many KN-95 masks do not meet the 95 percent filtration standard. The CDC has also been testing these masks for particulate filtering, and some have failed badly, such as the batch of masks in this report which filtered only 25% to 37% of particulates.
Despite all that, I personally like KN-95 masks. Although ECRI does not recommend KN-95 masks for use when treating Covid patients, they are likely to be acceptable for non-healthcare settings, such as the sort of community masking I'm discussing here.
And although they are not as tight as N95 masks, I find that their soft construction allows them to follow the contours of my face, which I believe gives me a pretty good seal. In addition, because the masks are flexible, I can see and feel the mask "breathing" with me. That's especially important when I inhale, because it means I'm generating negative pressure inside the mask, which would be difficult if air was leaking around the edges. Basically, I can do an unofficial fit check just by paying attention to the movement of the mask for a few breaths.
Because of the quality concerns with KN-95 masks, you should check the following two sources for information about any KN-95 mask you are thinking of using:
Appendix A of the FDA's EUA for non-NIOSH-approved masks includes a massive searchable list of masks that meet the standards for the EUA, including masks meeting other international standards that I'm not familiar with. (This list also includes helpful links to instructions for using most masks.)
The CDC publishes assessments of the particulate filtration efficiency of a variety of non-NIOSH-approved masks. Try to find masks where the minimum efficiency is 95%, ideally represented in more than one sample batch. (Note that the masks are not assessed for any other NIOSH requirements, just particulate filtering efficiency.)
As you can see, there can be quality issues with some of these masks. That brings me to…
Skullduggery
The massive demand for masks has drawn in the inevitable criminals and scam artists. Here are a few things to watch out for:
I have never seen medical quality N-95 masks legitimately on sale to ordinary consumers. Reputable medical supply companies will only sell to healthcare providers. Every supposed medical N95 mask seller I've looked into has customers complaining about fraud. Either they never deliver, or they deliver the wrong kinds of masks. One of them would only accept payment with bitcoin.
Lots of places advertise N95 masks but sell KN-95 masks. Sometimes you can clearly see the telltale earloops in product pictures on the website. Sometimes you won't find out until you open the box.
There is apparently some straight-up counterfeiting of masks. The CDC posted this list of misrepresentations in NIOSH labeling, and the non-NIOSH assessments list includes a similar list of counterfeits. These are a real parade of scumbags.
In addition, some masks aren't really fraudulent, they're just of uncertain quality. See the discussion of procedure masks above.
Other Kinds of Respirators
There are other kinds of respirators being sold for pandemic use, and I want to talk about a few of them, just to give you an idea what's out there. Again, these are not endorsements.
But first, we need to talk about one troublesome feature of many masks…
Say "No" to Exhalation Valves
Take a look at this 3M industrial N-95 face mask: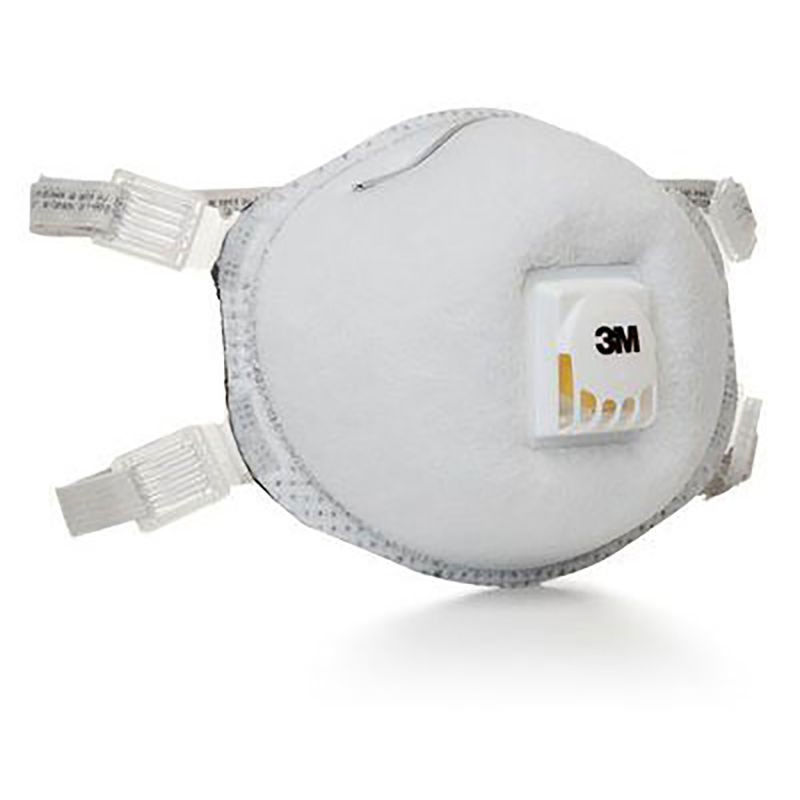 Notice the little box in front? That's the exhalation valve. It's a one-way valve that opens when you exhale, so air can flow out the valve instead of through the filtering material of the mask, which makes it easier to breathe while wearing the mask. These are great for industrial use, where you're trying to protect yourself from inhaled particulates, but you don't care about what gets out of the mask when you exhale.
Unfortunately, being a good neighbor during the Covid-19 pandemic means you should care what you exhale, because you might be exhaling Covid-19 virus particles and infecting other people. An exhalation valve prevents the mask from working as source control, because exhaled air flowing through the valve isn't filtered. This destroys the mask's ability to protect other people, turning you into a bad neighbor. For this reason, in some places with mask mandates, masks with exhalation valves are not accepted.
The pretty much universal solution to this problem is to wear two masks: Put on the primary respirator (with the exhalation valve) first, then put on a procedure mask or cloth mask over the respirator to cover the exhalation valve and provide source control to protect the people around you.
(Note that some healthcare workers wear procedure masks over N-95 masks because procedure masks are cheaper and can therefore be changed more often to avoid cross contamination between patients.)
R95, P95, N99, R99, P99, N100, R100, and P100 Filtering Facepieces
As I mentioned elsewhere, in addition to N95 class protection, filtering facepiece respirators also come in protection classes that offer increased particle filtration — 99 for 99% filtration and 100 for 99.97% filtration — and increased resistance to oil — R then P. So you'd think if N95 is good, a P100 like this would be awesome: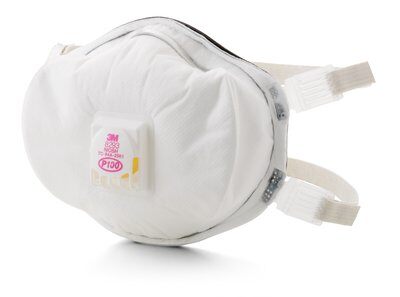 There are a couple of problems.
These masks are 2 to 4 times more expensive than regular N95 masks.
Unless you work in an environment that already requires masks, you don't need the oil resistance that comes from a P- or even an R- prefix.
It's not clear that N99 or N100 filtration really improves protection. It seems like it should, but there isn't a lot of data, and healthcare workers seem happy with N95 masks.
This mask has an exhalation valve, which destroys its use as source protection, to protect other people from the wearer. You'd have to cover it with another thin mask, such as a procedure mask.
On that last point, I've never seen a mask with 99 or 100 class filtration that didn't have an exhalation valve.
Reusable Half-Face Respirators
If you have access to some kind of reusable respirator, such as this half-face respirator, it ought to protect you from Covid about as well as any mask, as long as you use it with a particulate filter attached to the intake vents (I don't see particulate filters on this one). NIOSH-approved half-face respirators are listed in the FDA's EUA for the Covid-19 emergency, and you can look up specific models in the NIOSH Certified Equipment List. (The Moldex 7000 shown above is listed there.)
One advantage of this kind of mask is that they usually have soft gaskets that follow the contours of your face, so they are less likely to leak and they are more comfortable to wear for long periods. The downsides are that you have to buy replacement filters after a certain amount of use, and you have to regularly sanitize the remaining reusable parts.
Most of these reusable respirators are intended for industrial use, so they will almost certainly have an exhalation valve (I've circled it in red in the image above). You'll need to cover the valve vent with some kind of mask or filtering material in order to provide source control to protect people around you.
Quarter-Mask Respirators
Quarter mask respirators are similar to half-face respirators, consisting of reusable frames with replaceable filters, but they cover a smaller area of the face and are generally lighter and use only a single replaceable filtration cartridge. This makes them easier to wear, but it also makes them easier to dislodge.
I like the idea of quarter-mask respirators, because their reusability allows the manufacturer to put money into ensuring a good seal to the face. With an N95 particulate filter installed, they are essentially a better-fitting alternative to an N95 mask.
This Envo quarter mask uses replaceable N95 particulate filters — the large white area at the front of the mask. The seal between the mask body and your face is a soft gel-like material which conforms to the shape of your face, and the straps that hold it there are of higher quality than a typical N95 mask.
I think Envo masks were originally marketed for use in the building trades, where N95 masks are useful for filtering dust. They are listed on the Certified Equipment List and therefore covered by the EUA. I've heard of healthcare workers using them as alternatives to N95 filtering facepiece masks.
Note that this mask has an exhalation valve (which I've circled in red), so you will need to cover the mask with another mask to filter your exhaled breath. As with other reusable respirators, you periodically have to replace the filter and sanitize the rest of the mask.
I see ads for O2 Curve masks like these everywhere. (I'm not sure if everyone sees them so much, or if it's just me because I'm reading a lot about masks.)
Like the Envo, the O2 Curve is designed to fit the face, with soft edges and adjustable straps. I believe these were originally intended as runner's masks, for protection against dust, pollution, and allergens, but the company seems to be selling them now for protection against Covid-19. They can't legally say that, because the O2 Curve lacks the proper FDA approvals, but they sure do imply it a lot.
To be clear, O2 curve masks are not NIOSH approved N95 masks, and they are not covered by an EUA. But the filtering efficiency they claim is comparable to an N95 mask, so they are probably N95-ish. I've heard of healthcare workers using them as alternatives to N95 masks.
Note that this mask has exhalation valves hidden under the outer shell on either side of the mask, approximately under the red circle on either side, so you will need to cover the mask with another mask to protect others from your exhaled breath. For that, you'll want to get the Curve Surgical Mask Adapter ring, which helps hold a procedure mask in place and slightly away from the surface of the shell so there is room for proper airflow.
As with other reusable respirators, you periodically have to replace the filter and sanitize the rest of the mask.
Next: Mask Use and Care