This is Part 2 of my four-part guide to Covid masks. In Part 1, I introduced some concepts and explained the limits to my knowledge. In this part, I'll talk a bit about various kinds of masks.
As I said before, I am not an expert in this field. I've seriously considered not posting anything at all for fear giving out bad information. But the thing is…I think I know some stuff that might actually help people.
So, now that I've fulfilled my duty of explaining my level of knowledge (not a lot, but more than some) and warning you that I might not know what I'm talking about, even though I think I do, let me see if I can explain the different types of masks you are likely to encounter.
If you are a professional, or knowledgeable amateur, who knows more about PPE specifically or medicine in general than I do, and you see that I've got something wrong, please let me know.
Cloth Masks
They tell you any sort of mask will help, and it's probably true, but masks made of ordinary cloth such as the cotton weave used to make T-shirts are not particularly good at filtering small particles: If you can see the holes in the weave, microscopic virus particles can easily make it through. Nevertheless, as long as the mask absorbs some of the the droplets you exhale, it will provide some degree of source control.
Experts generally recommend that one of the inner layers should be a "non-woven" material. In theory, that's any cloth or fabric material where the strands that make it up are held together by more than just a mechanical weaving process. There are a variety of such materials, using various glues and bonding techniques, but in practice when discussing respiratory masks, this means a "melt-blown" material. That's a process where melted microscopic strands of material are blown together so they form a layer of porous material that acts as a filter.
There's another type of mask that uses non-woven materials…
Procedure Masks
Those are the kind of mask you think of when you normally think of a doctor or nurse wearing a mask. You know, one of these things:
Procedure masks should have at least three layers: Inner and outer moisture absorbing layers, and a middle layer made up of melt-blown filtering material. These are designed for use in medical procedures, to protect patients from respiratory diseases carried by the person performing the procedure. That is, they are for source control, which is how we protect each other.
What these procedure masks are not designed to do, however, is protect the wearer from disease-carrying droplets from other people. Wearing one of these masks is not intended to protect you at all.
But…
Secrets of the Procedure Mask
Despite what I just said, procedure masks will protect you…some. Probably.
[When I first started drafting these posts, I was going to use a clickbait title about "mask secrets" or something like that, because some of this stuff was believed true by many experts but not yet acknowledge by public health authorities. Time has caught up with me, but a few sections, like this one, are still in that format.]
Make no mistake, the primary benefit of such masks is protecting other people from Covid-19-containing droplets that you might be exhaling. However, if you inhale through one of these masks, the melt-blown filter material should snare some of the Covid-19 droplets out of the air, and potentially even some of the Covid-19 aerosol particles. Not all of them, and maybe not even most of them, but certainly some of them. And like I said, protection from infection is a numbers game.
That's one of the secrets of the mask business during a pandemic: Just because a mask wasn't designed to protect you, and just because they have not been FDA approved to protect you, doesn't mean they won't in fact protect you.
Really? Has that been scienced?
Until recently, there has not been a lot of scientific study in this area. Some scientists testing masks for protection against air pollution found that the surgical masks they tried filtered out about 80% of particulate pollution. By comparison, the medical standard N95 mask filters at least 95% of particulate pollution. On the other hand, a cotton handkerchief filtered out only 28% of pollution. They were testing against simulated automotive exhaust, and there's more than one type of surgical mask, so…the applicability of this study to our current pandemic is a bit weak.
There was a more real-world study in which 2,862 healthcare personnel were randomly assigned to wear either surgical masks or N95 masks, while caring for patients with the flu, and the nurses wearing surgical masks did not catch the flu significantly more often than those wearing medical N95 masks. Another similar study found similar results, as did a study of ordinary citizens caring for flu-stricken children at home.
There are lots of issues you could raise with these studies, and none of this is comparable to the situation we find ourselves in with Covid-19, but it has for some time seemed likely to me and others that surgical masks do offer some level of protection to the wearer.
And there may be something to that: The CDC recently announced results from a group of studies indicating that wearing a mask seems to protect you from Covid-19 by reducing your chances of inhaling droplets. The study doesn't mention aerosols, and the experiences of healthcare workers caring for Covid patients without proper protective gear strongly suggests that surgical masks are not a complete substitute for standard N95 masks.
I'll get to those N95 masks, but first we need to talk about…
Respirators
You've undoubtedly heard about the use of N95 masks by healthcare workers. N95 masks may look similar to procedure masks or one of the other masks you see people wearing, but they are radically different, because they aren't just masks, they are respirators. The key difference is that unlike a procedure mask, which may filter the air you breath but wasn't designed with that in mind, a respirator is in fact designed to provide you with safe air to breath.
Respirators come in a variety of types. In the most extreme situations, the respirator comes with a supply of safe air. When a firefighter enters a burning building where the air is filled with dangerous fumes and might not have enough oxygen, they wear a fully self-contained breath apparatus (SCBA) which includes a tank full of breathable air.
In less extreme situations, it is sufficient to provide the wearer with ambient air that has been filtered to remove the expected contaminants. In many industrial applications, workers wear reusable half-face respirators that cover the mouth and nose. These masks filter inhaled air through replaceable cartridges, such as those on either side of this mask: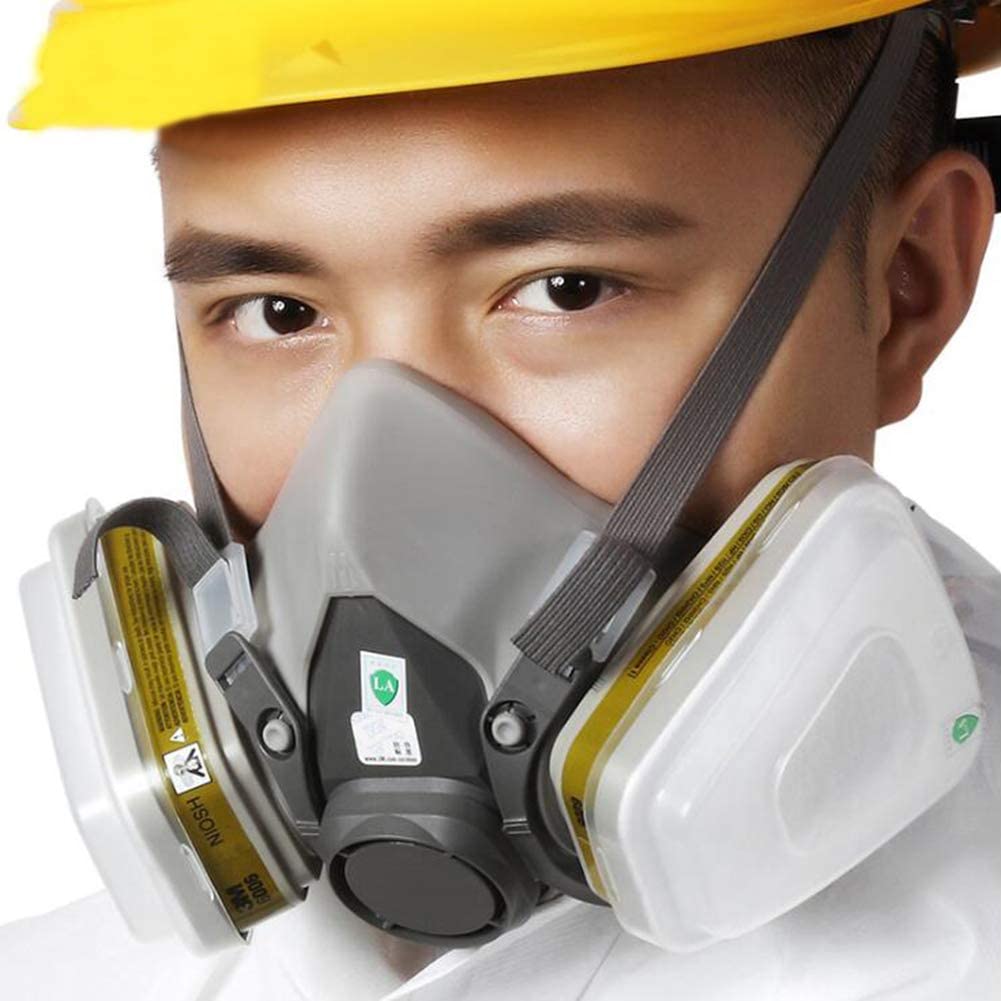 The particulate filtration standards for respirators are set under public health regulations in 42 CFR 84, administered by the National Institute for Occupational Safety and Health (NIOSH), a division of the Centers for Disease Control (CDC). NIOSH particulate standard designations consist of a letter and a number. The letters will be one of N, R, or P, which specify increasing resistance to degradation of the particulate filter due to oil vapors (an important issue for industrial users). The number is either 95, 99, or 100, indicating that the filter removes 95%, 99%, or 99.97% of particles, respectively. An N95 filter therefore removes 95% of particulates but should not be used where oil vapor is present.
(The mask above appears to be a 3M mask with multi-gas filtration cartridges. The white outer parts of the cartridges are filter retainers that probably contain N95 or P95 particulate filters.)
In a medical environment, such complex filtering systems are unnecessary and even counterproductive. Hazardous chemicals are not a concern, so gas-filtering cartridges are unnecessary. The biggest threat is biological contagions such as bacteria and viruses, which are essentially particles that can be removed by particulate filtration alone, and resistance to oil is not required.
Furthermore, healthcare personnel are concerned about cross-contamination between patients — e.g. accidentally transferring viral particles from a Norovirus patient in one room to an influenza patient in another — so they prefer to replace protective gear between visits to patients, which can be an unwieldy process with complex reusable respirators, which would have to be sanitized. That's why healthcare workers prefer disposable respirators.
N95 Masks
That brings us to what's known as a filtering facepiece respirator, which is what most people mean when they talk about an "N95 mask." It's basically a piece of N95-rated particulate filtering material that is shaped to fit over your mouth and nose to filter disease-causing particles from the air you inhale. And you can throw the whole thing away when you're done with it and ready to move to the next patient.
(Or you could back in the pre-Covid-19 days when they only cost 75 cents and every hospital had storage rooms full of them. Nowadays, healthcare workers follow careful procedures to safely reuse the same mask for hours or days.)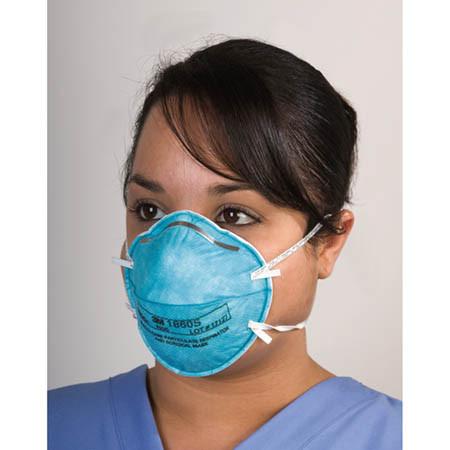 Unlike a procedure mask, which is flat, an N95 mask has a 3-dimensional cup or pouch shape that allows it to bulge out over your nose and lips while keeping the edges in contact with your face. In addition, instead of loops over the ears, the mask is held in place by tight straps that go around your head and neck to hold the mask firmly pressed against your skin. They are uncomfortable to wear for long periods of time, and healthcare workers who take care of Covid patients often develop skin irritation.
In addition to complying with the NIOSH N95 standard, these filtering facepiece respirators have to be approved by the FDA when used for medical purposes.
But wait…
You may be wondering, if N95 masks are so great, how come they didn't do any better than procedure masks in the studies I mentioned above? After all, they filtered more of the test particles than procedure masks. Shouldn't they have performed better in the real-world studies?
The truth is, no one knows why those studies turned out the way they did. The question didn't seem important enough at the time to do more studies. All we can do is speculate. N95 masks are less comfortable than surgical masks, so maybe study subjects were less compliant about wearing them. Another possibility is that influenza is more likely to be spread by people contaminating their hands and touching their faces, and both masks discourage face touching equally.
There's at least one more important possibility…
Fit
If the filtering material in a procedure mask is good enough to stop a virus — or at least most of the virus — why are they only partially effective at protecting the wearer? Why do some people with N95 masks still get Covid?
One answer is fit. In order for an N95 respirator to clean the air you breath, all of the air has to flow through the filtration material. But the filtration material slows down air flow considerably, so if there's even a small gap around the edge of the mask, a lot of outside air will flow through the gap instead of passing through the filter, which makes the N95 respirator no more effective than a procedure mask.
This is why medical personnel who wear N95 masks have to undergo special training and periodic fit testing using special equipment, to ensure they can wear an N95 mask correctly. There is usually also a fit-checking step that healthcare workers are expected to follow every single time they put on an N95 mask to make sure that mask is fitting correctly. The whole fit testing process varies from one mask model to another, but just as an example, here's a short video on how to don the 3M model 1860 mask, including how to do a fit check:
(Fit check instructions vary between manufactures and mask models. If you buy N95 masks, read the instructions.)
Because of these complexities, many health authorities recommended against ordinary people using N95 masks because they wouldn't be able to wear them correctly.
Secrets of the N95 Mask
That leads me to another one of those mask secrets: If you can get N95 masks, it's OK for you to wear them. First of all, if you fit the mask incorrectly, and the seal against your face is leaky, your mask won't be any worse than a procedure mask, which has no seal at all. Second, you're not a healthcare worker in a Covid ward. They spend all day working with people who are very definitely shedding the Covid-19 virus in their breath, so even a minor breach in their defenses can lead to infection. You face much less of a threat, so you don't need to be perfect. As I said, it's a numbers game, and a slightly leaky N95 mask is still going to be an advantage.
(Anecdotally, I've worn industrial-grade N95 masks when doing woodworking, especially when sanding, and despite the fact that I received no training or fit testing, they made a big difference in my level of comfort, which implies that much of the air was filtered.)
Is N95 Good Enough?
On the other hand, maybe you wonder if 95% filtration is good enough. And if you ever read the technical specifications for the NIOSH N95 test, you may have noticed it uses particles that are 0.3 microns in size, whereas SARS-CoV-2 virions are considerably smaller — somewhere between 0.2 and 0.05 microns, according to Wikipedia. Won't they just slip right through?
Basically, N95 is good enough for two reasons:
First of all, particulate filters do not work like a sieve. Or at least, not just like a sieve. Larger particles are indeed trapped because they cannot fit between the fibers of the filter, but smaller particles are trapped by a variety of other mechanisms, such as sticking to a fiber through electrostatic charge. The physics of particle filtration are non-intuitive and complicated, and I'd be lying if I said I understood them, but think of it this way: To a virus particle 0.1 microns in size, a piece of filtration material a millimeter thick is a forest of fibers 10,000 times its size. That's a long way to go without getting stuck to something. (The New York Times has a pretty decent illustrated explanation of how filtration works.)
In practice, there's a gap between the sieve mechanism that catches the larger particles and the other mechanisms that catch the smaller particles, and that gap occurs with particles around 0.3 microns in size. That's why NIOSH tests are done with 0.3 micron particles: To measure the masks at their worst. This means that since SARS-CoV-2 virions are smaller than 0.3 microns, they are actually captured more efficiently than the 95% capture rate for 0.3 micron particles.
The second reason N95 is good enough is that the 95% filtration rate is a minimum standard, so manufacturers tend to aim for a higher average filtration rate to minimize the number of masks that are rejected by the testing process due to manufacturing variations.
If you're wondering whether N99 or N100 masks would be better, I can't really say. But medical professionals seem happy with N95 masks, and the rate of infection among healthcare workers isn't much higher than the general population, despite the exposure to Covid patients.
Next: Part 3: Buying Guide