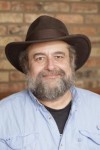 Hi, this is Mark writing.
Joel passed away on June 2, 2011.
I first noticed Joel commenting as "JDog" at Scott Greenfield's blog, where I was struck by the fact that even though he clearly had an emotional investment in the issues, he was willing to accept the possibility that he could be wrong, he was willing to consider alternative explanations, and he seemed to believe that, despite their errors, most of his opponents were acting with good intentions.
Soon, he made an impression on me in another way when he cost me $99. Joel didn't really cause the problem — MovableType just flaked on his avatar photo for unknown reasons — but he nevertheless apologized in the comments. That fits my impression of Joel: I'm pretty sure he knew I was kidding around, but he nevertheless responded by being courteous. Joel is quite capable of being a pain in the ass to people who've got it coming, but he'd feel bad if he did it unintentionally.
A couple of months later, I invited Joel to be a co-blogger here. I did that based on the strength of his comments at other blogs.
What I didn't realize at the time is that Joel was an actual science fiction author with 20+ published books to his credit. That's right. I had asked a published author to come write for me for free. Joel, however, graciously accepted and went on to write 39 posts for me before moving on.
It's going to be kind of quiet around here without him.