I figure with the election approaching, it's time for me to post my endorsement, and if you're a regular reader of my blog, it will not be a surprise: Vote Trump Out.
Yes, I realize that tons of people have already voted, and that I will change no one's mind. But I'm posting this anyway, just to make sure I say something.
First, though, a quick note about Joe Biden. There's a reason I headlined this post "Vote Trump Out" and not "Vote Joe Biden In," and it's because Joe Biden has a terrible track record on many issues. I'm not asking anyone to vote for Biden. I'm asking you to vote against Trump. Unfortunately, the most effective way to vote against Trump — unless you're in a state where one candidate is sure to win — is to vote for Joe Biden. But if you can't vote for Joe Biden, then please consider just staying home and not voting for anyone for President.
In my earlier post on the subject, I argued that nearly all my reasons for opposing Trump in 2016 are still good today. Now I want to talk about some new reasons for opposing Trump.
Number 1 by far is Trump's handling of the pandemic. As I write this, Worldometers is reporting that 230,749 Americans have died from Covid-19 and it seems obvious that thousands more will die before the pandemic subsides. Surely no President could have prevented all of those deaths, and there's a lot of blame to go around, including a lot of governors and a lot of big-city mayors. But the Covid-19 waves have been washing over region after region of the country. It's a nation-wide phenomenon, and that makes much of it Trump's fault.
No one knows how many people would have died if the U.S. had handled the pandemic differently, but we can make some pretty good rough guesses.
New Zealand, a nation of 5 million people, has had a grand total of 25 people die of Covid throughout this entire pandemic. If the U.S. had the same death rate, scaled up to our population of 328.2 million, only 1641 Americans would be dead. Similar calculations for Taiwan, South Korea, and Australia yield equivalent U.S. death counts of 97, 2955, and 11,736, respectively. This is arguably not a fair comparison, because New Zealand and Taiwan are easily isolated island countries, and South Korea is almost an island, with its only land border being the most well-defended border in the world. I suppose you could argue that Australia is also an island country, but at over 2.9 million square miles, it's almost the size of the United States.
Nevertheless, if you want an even better comparison, how about Germany? It's a modern industrial democracy, and it's right in the middle of Europe. If the United States had as many deaths per million as Germany, we would only have 40,216 dead. Heck, if the U.S. only had the same death rate as the entire world, we'd only have 49,291 dead instead of 230,749. Surely one of the wealthiest countries in the world could do better than average?
Or how about our neighbor to the north? Like the U.S., they've had a worse-than-average fight against Covid-19, but if we had Canada's death rate, we'd still only have 87,288 dead.
Let's go one step further and use the Covid Tracking Project's somewhat lower count of U.S. deaths: 217, 029. That's still 129,741 more people than would have died if we had Canada's death rate. I think that's a safe number for the minimum number of lives that could have been saved if the U.S. had done a better job fighting Covid. It's the minimum number of American deaths that can be laid at Trump's feet.
And yes, they should be laid at Trump's feet. The U.S. Centers for Disease Control has been studying and fighting epidemics around the world for over 70 years. They wrote the book on the subject, and all of the highly successful countries have been following it.
And no, the key to fighting a pandemic is not a lockdown. It's testing, tracing, and isolating. You test as many people as you can, you trace the contacts of people who test positive to find more people to test, and you isolate everyone who tests positive. This is what public health experts have been advising from the beginning. Lockdowns are what you have to do when you don't do testing, tracing, and isolating.
Trump has been terrible at this. I'll let Will Wilkinson of the Niskanen Center explain:
Trump was not called to greatness. He wasn't even called to above-average competence. He was called to implement a game-plan we'd already written with a disease control bureaucracy that was the envy of the world, the administrative infrastructure and personnel of the world's most dominant and powerful state, and a practically bottomless well of resources. […] If Trump had merely said, "Tell me what to do!," had done it, and otherwise had stayed out of the way, I believe it's almost certain that at least 100,000 dead Americans would now be alive.

But Trump didn't just fail to do what needed to be done. He didn't just refuse to do what needed to be done. He actively and aggressively undermined both federal and state efforts to contain the virus. For example, he abruptly ended U.S. cooperation with China on disease surveillance. We could have had a much clearer picture of what was coming, which would have allowed us to gear up and contain community spread before it got out of control, but we didn't. Trump inexplicably hollowed out our global public health presence before the pandemic, and kept doing it throughout. And he contradicted and undermined his own administration's pandemic control authorities at every turn, wreaking havoc on the federal government's immense capacity to respond. If he'd done nothing at all, many thousands of Americans would still be alive.

Trump could have activated the Defense Production Act very early on to rapidly increase the supply of tests and testing facilities, but he never used this emergency power to ensure an adequate testing supply. He has been at times overtly hostile to a big push on testing, largely because a big testing push would make the pandemic look like a big problem, and he'd assured everyone that it wasn't, first because he was worried that it would spook the markets, but then because it actually became a big problem, due to his initial dismissiveness. […] He has questioned the utility of testing on the flabbergasting grounds that you can't have a high infection rate if you don't test for infections. He has consistently, actively and purposefully misled the public about the scale and adequacy of American testing in order to pooh-pooh the idea that we need to do more of it.
You may recall that during the worst part of the pandemic, the Trump administration told the states they were basically on their own and would have to fight the pandemic with their own health departments and resources. Among other things, this led to bidding wars between the states for supplies such as PPE.
To ameliorate this problem, states got together to create alliances to coordinate planning and resources: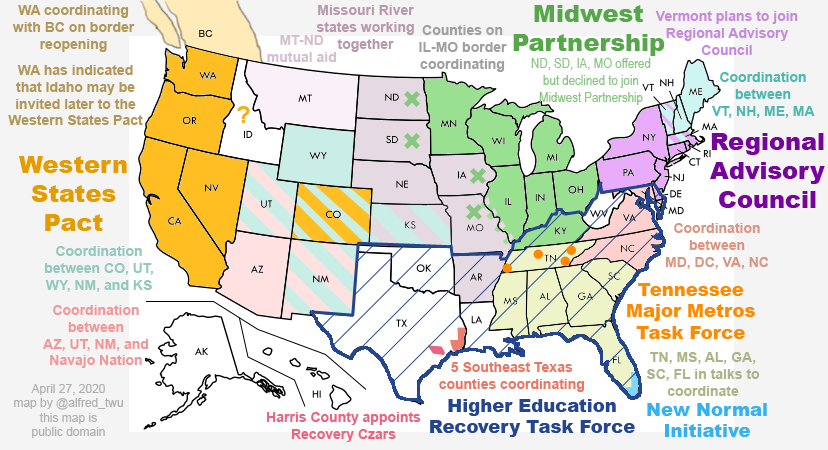 It's difficult to overstate the absurdity of this. To put it in stark terms, under the Trump administration, individual states were compelled by circumstances to form cooperating alliances to fight the pandemic and protect the lives of their citizens. They had to do this despite already being part of an extremely well-funded 230-year old alliance called The United States of America, which included the National Institutes of Health (NIH), the Federal Emergency Management Agency (FEMA) and the CDC, which I will remind you was the most respected pandemic fighting organization in the world. Despite these vast resources under his control, Trump did little to help the states, so they had to join together to help each other.
Short of civil war, it is difficult to imagine a greater failure of leadership by an American President.
I was going to make this post a list of reasons why we need to vote Trump out. But now that I've finished the first and most important reason, I think it is sufficient by itself to make the case.