I'm getting pretty tired of hearing the Mayor of New Orleans whining about the rescue effort:
The mayor of New Orleans made an impassioned plea for help on Friday as tens of thousands of people remained stranded in the flooded city. Ray Nagin, in a radio interview, said: "I need reinforcements. I need troops, man. I need 500 buses, man. Now get off your asses and fix this. Let's do something and let's fix the biggest goddam crisis in the history of this country."

He castigated the government's failure to help those stranded in the city by Hurricane Katrina…
It's about time you paid attention, Ray. The National Hurricane Center was issuing increasingly severe warnings since about Thursday. The Governor of Louisiana declared a state of emergency on Friday. Blogger Brendan Loy (from whom I stole this frightening picture of Katrina's enormous size) was calling for an evacuation late Saturday night, then again about 7am Sunday morning:
What the hell is the point of even having such a thing as "mandatory evacuations," if you're not going to order them right now (or better yet, about 24 hours ago) for New Orleans, Gulfport and Biloxi?!? Don't the officials down there get it?!? ONE OF THE MOST INTENSE HURRICANES IN RECORDED HISTORY IS 24 HOURS AWAY FROM QUITE POSSIBLY DESTROYING THEIR CITIES!!!

If it's not appropriate to order a mandatory evacuation now, when would it ever be appropriate to do so?!? A huge, still-strengthening Category 5 hurricane… a high-confidence forecast track… an extremely vulnerable, densely populated area in the very center of the track… bottom line, this is nuts!!! Hundreds or perhaps thousands of people are going to die because their local officials inexplicably refuse to pull the trigger and tell them they have to get out!!!
About two hours later, Mayor Nagin finally ordered an evacuation. Eighteen hours later, Katrina made landfall.
Oh, and as for all those buses you need, here are 205 of them found in New Orleans by an AP photographer: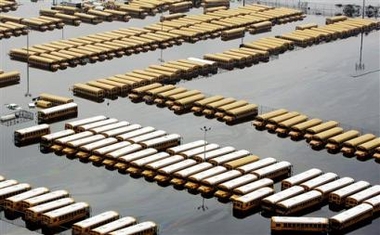 On Thursday, 18-year old Jabbor Gibson found a school bus abandoned on the street in New Orleans and stole it so he could drive 100 people to Houston. They were the first refugees to arrive at the Astrodome.
If Mayor Nagin's people had had half as much initiative, they could have driven those 205 school buses into the poor neighborhoods before Katrina hit and evacuated about 15,000 people from the city. Instead, as you can see, they left the buses to drown in the parking lot where they're no good to anyone.
So while there are probably mistakes being made all over the place at all levels of government, Mayor Nagin should think twice before he throws any more stones.