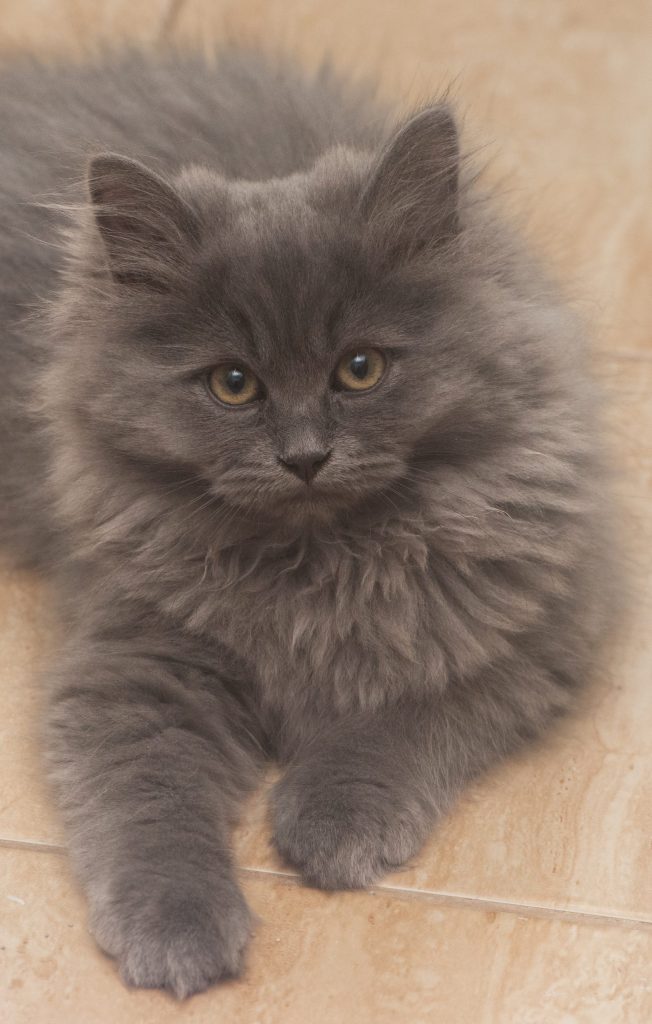 Some of you may know that our cat Ivy passed away a couple of months ago. We both needed some time for our grief to settle, but sooner or later, were getting another cat. We've learned that two cats is not enough for our household. We really need three cats, because then there's always something going on.
Actually, now that we live in a house instead of a condo, we've been thinking we might actually need four cats, because they are spread out over a larger area, which reduces the density of cats and therefore reduces the probability of petting a cat. (That's just science!) So my wife has been doing some research on cat breeds for a while now, and the more she learned about them, the more she wanted a Siberian Forest Cat. As with Norwegian Forest Cats like our Ivy, Siberian Forest Cats are the real deal: Unlike some other breeds, Siberian Forest Cats really do come from where the name says they do. They're Russian cats.
Our new Siberian kitten was the daughter of two champion Siberians imported from Russia and bread by Karla Boston of Longmeadow Siberians, a cattery in lower Michigan. Longmeadow has a good reputation online, and when I reached out to several of her customers, they all reported that their kittens were healthy and that they had a great buying experience.
The latter is important because some cat breeders aren't very good at customer service. They got into the breeding business as a hobby, which makes them terrific breeders — they truly love cats — but it doesn't necessarily prepare them for the business of breeding cats. Some of them are grudging about answering questions, and they can be hard to deal with during the sales process. The worst of them just can't let go and try to impose their will on new owners with excruciatingly strict and detailed contracts. On the other hand, people who enjoy breeding cats will almost always do a better job than someone who's only in it for the money. Karla is clearly a cat lover, but she apparently has enough business experience to care about customer experience.
We were preparing to drive out to Michigan on Thursday, but Karla told us she had some business at her church on the south side of Chicago, which is a much shorter drive for us, and she offered to bring the kitten. So on Thursday we picked up our new little girl from Karla.
When we brought the kitten home, we put her in the master bathroom, dimmed the lights, and left her there to calm down after her very busy day.[1]Cats prefer to hunt in the dim light just before dawn and just after dusk, and it's the level of light that their eyes are best adapted to, so low light environments make them more confident and secure. We had supplied the room with a small furry cat tent for sleeping, several small rugs, food, two water sources, cat toys, a bench with a towel on it, a litter box, and a small piece of cat furniture that had scratching posts, a scratching ramp, a cat condo, a cat hammock, a cat basket, and a high perch.
We had also included a couple of surveillance cameras so we could check up on her. In typical cat fashion, she had ignored all the fancy cat furnishings and hid under the bench:
(Some of you may may have trouble figuring out that picture, but cat owners should have no trouble seeing a fluffy cat peaking out with one eye, which glows brightly in the on-axis infrared illumination of the camera in night mode.)
This looks kind of sad, but the large white object on the right is a filtered recirculating water fountain. Our kitten had a busy day, and was a little dehydrated from the trip, so she was just there to drink the water. We also had a more kitten-sized water bowl, but she prefers the fountain.
Later in the evening, I got down on the floor and tried to reach her. She hissed at me. A fierce kitten hiss. It was adorable. Then about 10 minutes later she came out to investigate me, and she even let me rub her belly. By the next day, we were letting her out into the bedroom and she was playing "chase the feather hanging from a stick." She's not very coordinated yet, but boy does she have endurance. After which she falls sound asleep.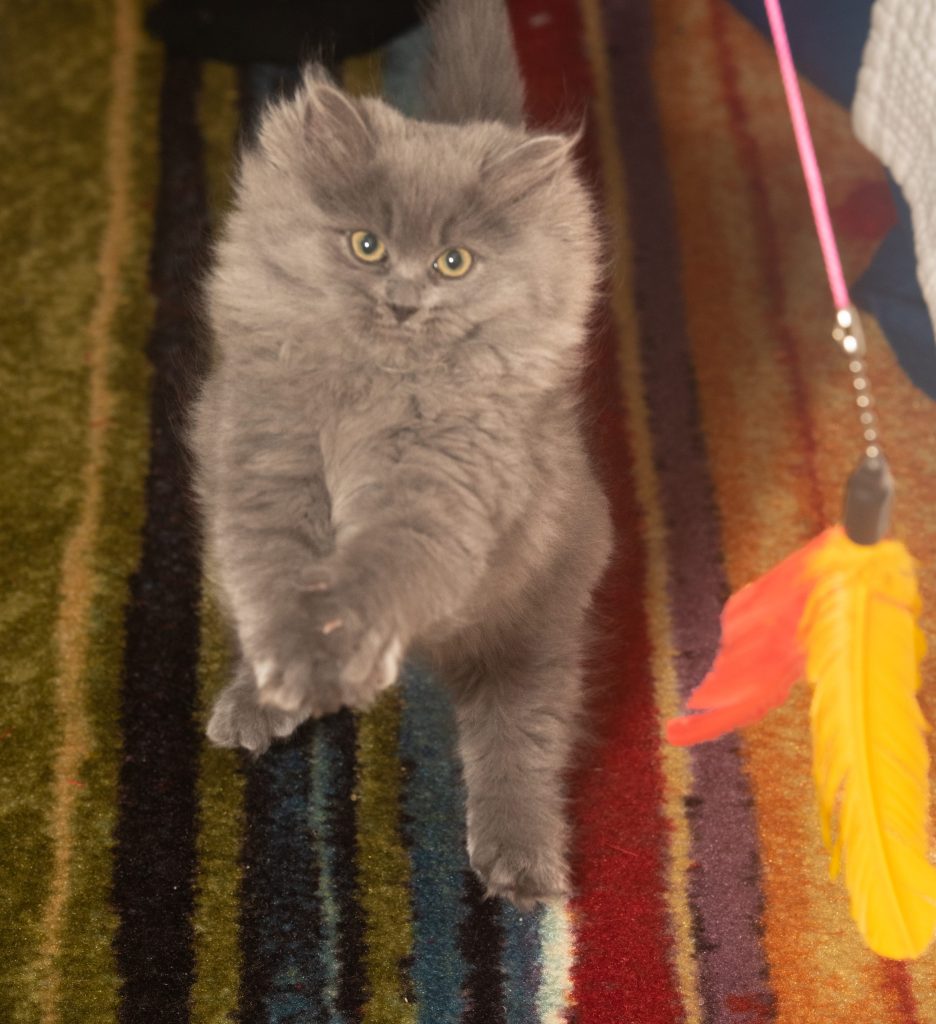 Ever since my wife was a little girl, she thought Chanel would be an elegant name for a cat, after Coco Chanel and the fashion and fragrance lines she created. Unfortunately, Coco Chanel is also known for being a Nazi sympathizer — living in Paris during World War II, she sided with the German invaders, and was saved from trial afterwards only by Winston Churchill's intervention.
I didn't think it would really matter for purposes of naming a cat, but ultimately my wife just couldn't do it. Instead, we fell back on our tried-and-true practice of naming our cats after fictional characters in movies or TV shows. Beezle is named after Patrick Bergin's character in Highway to Hell and Chloe is named after Chloe O'Brian in 24 and Chloe Decker in Lucifer.[2]Ivy was an exception. That was the name the breeder gave her, and it just stuck.
We thought it would be appropriate for a Siberian cat to have a Russian-sounding name, and after an exhaustive search (including asking ChatGPT for ideas) we settled on "Natasha," thus naming her after several famous Natashas, including Natasha Fatale, tormentor of Rocky and Bullwinkle, Lieutenant Natasha "Tasha" Yar, chief of security for the USS Enterprise in the 2360s, Natasha Denona, a real-life makeup designer,[3]With no Nazi ties and Natasha Romanov, the Black Widow.
Meet the new cuteness. Meet Tasha:
Footnotes

↑

1
Cats prefer to hunt in the dim light just before dawn and just after dusk, and it's the level of light that their eyes are best adapted to, so low light environments make them more confident and secure.

↑

2
Ivy was an exception. That was the name the breeder gave her, and it just stuck.

↑

3
With no Nazi ties