Oh my God, I ran automated updates on the blog Friday afternoon without realizing that it was also going to update WordPress to version 5.0. So when I started to write a post that evening, I was met with this monstrosity: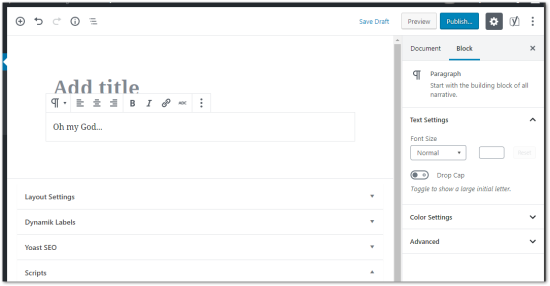 WordPress has been threatening us with their new Gutenberg editor for months now, and I guess it's finally arrived, despite the fact that the trial Gutenberg plugin has been getting abysmal reviews.
What the hell were they thinking? Gutenberg is trying to be some kind of low-rent page builder, allowing users to drag and drop feature blocks into a page. People who use WordPress to build commerce sites love that sort of thing, because it gives them complete control over the design of every page on an individual basis. I use WordPress for blogging, however, so I hated Gutenberg on sight.
Look, I just want to write stuff. I don't want or need to make every single page look unique and different. Blogging for me is about content, not visual design.
When WordPress started talking about Gutenberg, I ignored it, because it figured it would just be another editor. I didn't expect such a drastic change. I didn't expect that I would have to stop and learn a new way of posting stuff. In essence, WordPress Gutenberg has broken the fundamental workflow of blogging: Open the page and start writing.
In the long run, It's not going to be a huge deal for me. I deal with technical blogging stuff all the time, and I've worked with page builders before, so I'm sure I'll get used to it. But I suspect some of the more curmudgeony bloggers out there (I'm looking at you, Greenfield!) are going to hate this change.
Fortunately, there's a solution: Go back to the old editor with the Classic Editor plugin: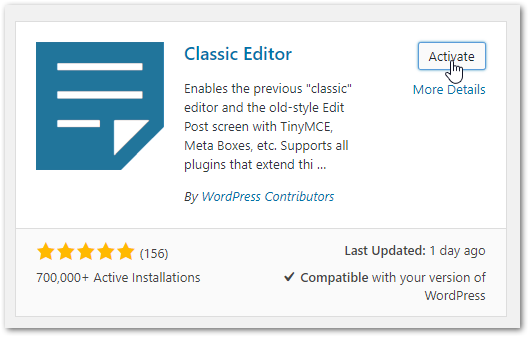 Note that it has already been installed by over 700,000 users. I'm one of them. I threw this post together in a few minutes in the old editor.
Update: If you only want to disable Gutenberg for some of the users on your blog, there's the Disable Gutenberg plugin, which gives you detailed control over when and for whom Gutenberg is active.