The town of Lima, Ohio (population 40,000) has a 14-member SWAT team. According to their web site, the SWAT team deploys about once a week. Check out these badasses: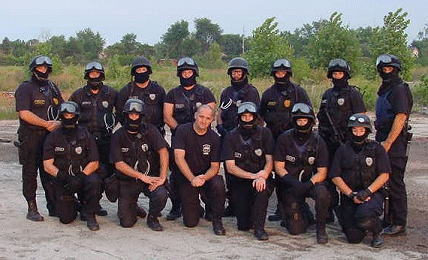 That picture is from their web site. Here's another one from their web site: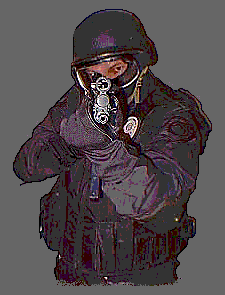 Now that you've seen how these macho bastards portray themselves, would you be surprised to learn that on Saturday they raided the house of Tarika Wilson, a black 26-year-old mother of six—to arrest her boyfriend for selling drugs—and somehow managed to kill her and shoot the 1-year-old child she was holding?
As SWAT teams often do, they shot the household dog as they entered. Now ask yourself, given that police have TASERs, pepper spray, riot batons, and body armor, what kind of asshole discharges a firearm in a house with children in it just to stop a dog?
The target of the raid, Anthony Terry, 31, was arrested on the extremely lame charge of suspicion of possession of crack cocaine, and was being held in the local lockup.
The cop who killed Tarika Wilson was of course not arrested. In fact, as is usually the case in these kinds of atrocities, the police haven't even released his name.
The wounded child is expected to recover, but he had to have a finger amputated.