This is the second half of my summer trip report. Part 1 took us through our stay at the Opryland hotel.
The next day we checked out and made our way to Memphis. Every time we've been to that city, we've made it a point to stop in at the Peabody Hotel downtown for drinks or a meal or just to see the famous ducks in the lobby. This time, however, we were checking in for a few days.
The Peabody opened in its original location in 1869 and a lot of famous people have visited it over the years, from Johnny Cash to Michael Jordan to the Dalai Lama. Elvis had his high school prom there, and he came back a few years later to sign the paperwork for his RCA deal, some of it scrawled on Peabody stationary. Tom Cruise shot parts of The Firm on the rooftop.
The Peabody's French restaurant, Chez Philippe, is arguably one of the best restaurants in Memphis, so naturally my wife and went across the street for burgers at Huey's. We didn't shoot any toothpicks into the ceiling, but apparently it's the thing to do.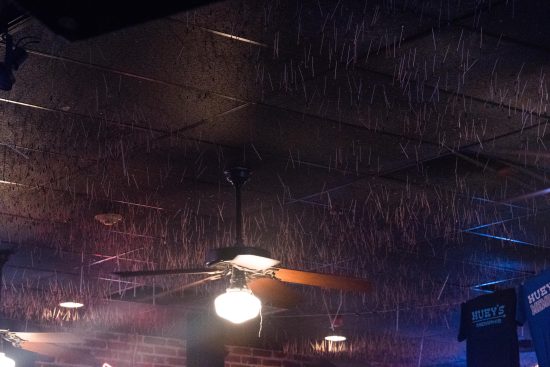 Between Huey's and Corky's, we stayed away from the hotel restaurants and still had a lot of good food. The only meal we had in the hotel was a magnificent Sunday brunch at the Capriccio Grill.
Writer David Cohn has written,
The Mississippi Delta begins in the lobby of the Peabody Hotel in Memphis and ends on Catfish Row in Vicksburg. The Peabody is the Paris Ritz, the Cairo Shepheard's, the London Savoy of this section. If you stand near its fountain in the middle of the lobby, where ducks waddle and turtles drowse, ultimately you will see everybody who is anybody in the Delta and many who are on the make.
That a great paragraph, and it was probably true when Cohn wrote it. The Peabody has a long history of ups and downs — it moved to a new building in 1925, and it went completely out of business in the 1970s (along with most of downtown Memphis), before being take over by new owners — so the Peabody today isn't as connected to its history as they like to pretend, but it's still a beautiful old hotel, full of rich architectural detail wherever you look.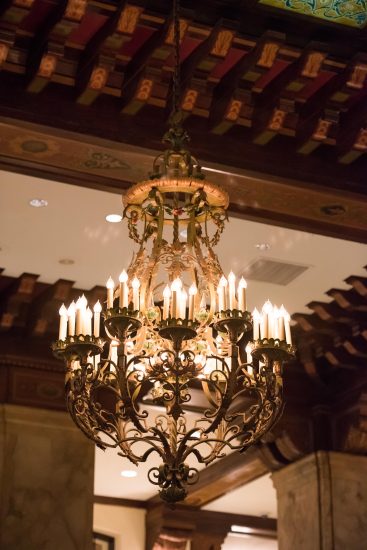 If you find yourself visiting Memphis, you should at least stop in and have a drink in the lobby.
Whenever we're away from home, my wife begins to miss the cats, so on long trips I like to try to find local rescue shelters where we can visit some kitties. In Memphis we stopped in at Mewtopia Cat Rescue, a small shelter in a converted former veterinary clinic in eastern Memphis. The volunteer staff told us stories about how they had acquired the place, a former veterinarian's office, and the work they did to refit it as a cat shelter. It seems like a good place for lost cats.
As we walked around, I noticed one cat kept coming back to rub against my legs. I had the urge to pick him up, but I didn't want to spook him, so instead I sat down to see if he'd sit in my lap. Sure enough, within a few seconds he climbed up and then put his paws on my shoulder and purred as he nuzzled my neck. A few minutes later in the kitten room I noticed a cat watching me intently, so I turned away slightly and hunched down, and he jumped right up onto my shoulders. Apparently I now have an unsettlingly good grasp of cat body language.
On our way home to Chicago we spent the night in St. Louis. We both (totally unfairly) think of St. Louis as an armpit because our last time there we stayed in a crappy roach-infested Days Inn. Determined to give the city another chance, we stayed in a somewhat more expensive room at the Renaissance St. Louis Grand Hotel…which didn't quite work out.
There weren't any roaches, but the hotel had just been through some major renovations, and everything had that not-quite-ready feel. For example, even though we had some kind of "executive" room, the desks hadn't been installed yet, so the hotel sent someone to setup a chair and a card table (fortunately we bring our own outlet strip). And when we hit the hotel restaurant for late dinner the staff seemed flustered, like they weren't really used to dealing with guests.
I know, I know, I'm whining. But given the high quality of the last three hotels, it was a bit of a letdown, and not nearly enough cheaper to make it a good deal.
That was one of the things I learned on this trip: Stay at convenient but relatively inexpensive hotels while traveling and save the nicer hotels for the destinations.
Speaking of hotels, here's the scorecard:
Fastest wi-fi: Opryland Hotel.

Most over-priced wi-fi: Renaissance St. Louis Grand Hotel.

Best customer service: Opryland Hotel.

Best feeling like a big shot: The Peabody, especially when swiping my key card in the elevator to get it to stop on our "special" floor.

Most overpriced soda pop: Opryland Hotel.

Fastest elevators: Marriott Courtyard Louisville Downtown.

Slowest elevators: The Peabody.

Most comfortable bed: The Peabody.
Ever since I took up the hobby of photography, I've had to deal with the issue of people getting annoyed or suspicious when I start taking pictures. On private property they often ask me to stop, and even on public property they ask questions, especially at night.
One good exception is weddings, like the one that started our trip. My photography hobby has transformed weddings from tedious social occasions to exciting opportunities for picture taking. People actually want me to take pictures, and they appreciate when I post them.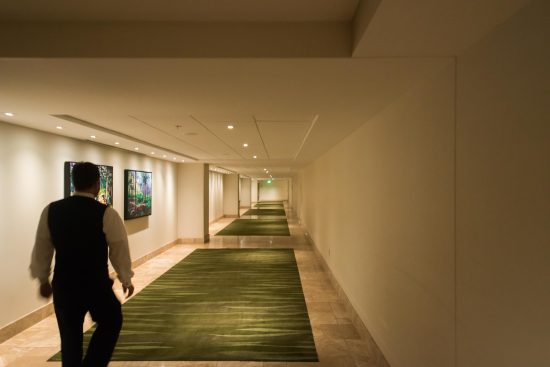 I learned about another nice exception on this trip: You can wander the halls of great hotels like the the Opryland and Peabody taking pictures, and even at 2 am nobody will question you. This seems like something I'll be able to put to good use in the future.
One last thing I learned is that once I relaxed and surrendered to the higher-than-normal cost of everything on this vacation, I got used to spending money. $120 dinners for two began to seem normal, and why not get a few 20-ounce bottles of Diet Pepsi for the room at $3.00 each? I was going price-blind.
Anyway, when we woke up the next morning, we skipped breakfast, GTFO of St. Louis, and drove almost straight through to Chicago. We stopped at home long enough to bring up a load of luggage and turn on the air conditioning, and then we drove to dinner at Ledo's Pizza while the place cooled off.
Life was back to normal.