Over at Reason, they're boasting because Business Insider chose Matt Welch and Nick Gillespie for its list of the only pundits you need to pay attention to between now and the election.
I'm happy for Matt and Nick, but I want to draw your attention to something else that caught my eye. Go ahead and follow either of those links and look at the picture that Business Insider used of Matt and Nick.
Actually, let me just include it here: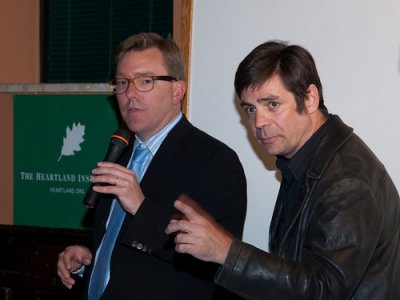 Now I happen to think that's a pretty good picture of Matt Welch and Nick Gillespie. It's in the classic Reason tradition of making them look slightly goofy, yet they're still identifiable, and it shows them in the very act of punditry. Kudos to the Business Insider photo editor.
I do have one problem, though. Take another look at the photo. Notice anything…familiar about it? Think you might have seen it before?
I'll give you a hint: In the background you can see the logo of the Heartland Institute, which held a book signing event for Matt and Nick at Jaks Tap here in Chicago a few months ago. You can even check out my post about it, which starts with a similar photo. A very similar photo.