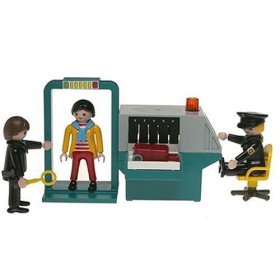 Check out the Security Check-in toy set from Playmobil. Here's the description:
Every single smuggler is caught at the security check-in. With a modern X-ray machine every item not allowed on board is detected. At the same time, the passengers have to pass the passenger check-in under the watchful eyes of the security staff. Only then can they start in their hard-earned vacation.
The ad copy doesn't say if the passenger's shoes are removable.
(Hat tip: Scott Bludorn.)