About 10 years ago, my wife had just adopted Ripley, and we were thinking of getting a kitten next, and we thought it might be fun to get a purebread kitten. We weren't sure what breed we wanted, so we did some research on the web and at cat shows. Eventually we settled on the Ragdoll breed, and began to contact a few local breeders to learn to learn how the adoption process works and to get an idea of the difference between breeders.
What we learned — and this will shock you — is that some cat breeders are a bit nuts. They all had lots of special rules we were supposed to follow once we got the cat, not all of which seemed, uh, entirely grounded in reality. I remember one even wanted the right to take back the cat if they thought it was being abused. (Taking back an abused cat makes sense, but they wanted to make the determination themselves, rather than, say, a neutral veterinarian.)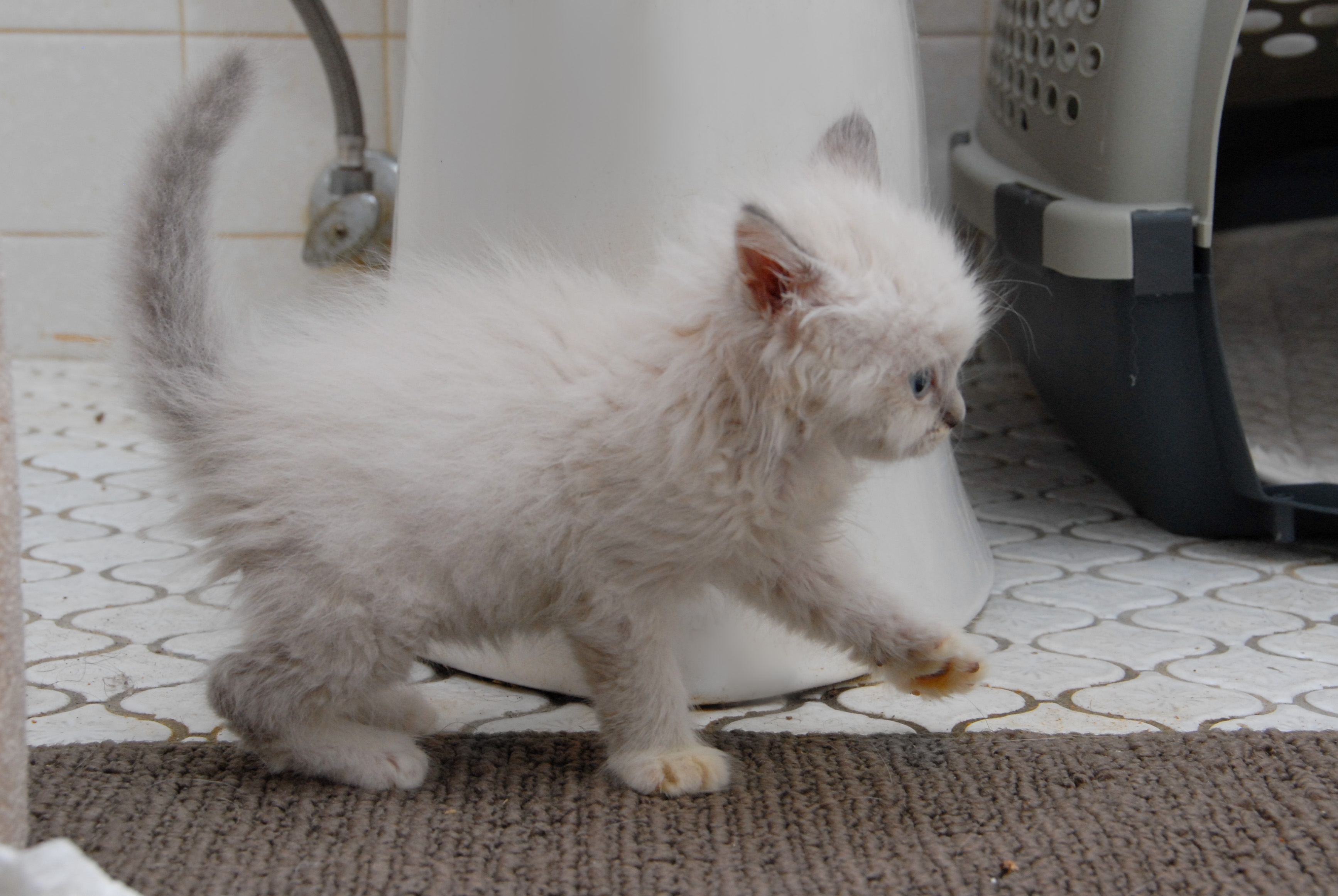 That turned us off the idea a bit, and somewhere along the way we got a kitten from a shelter, Buffy. (I didn't have the camera back when she was a kitten, sorry) Then, a year or so later, we were visiting the Orphans of the Storm shelter (where we had adopted Ripley and Buffy), and we stumbled a cat with more hair than I'd ever seen before. We picked him up and played with him and brushed his hair — which really needed it, there was an awful lot of loose hair stuck to him — and put him back in his cage. But he just sat there, looking at us with those big blue eyes… So we took him home, and he became my favorite cat, Dozer.
Sadly, Dozer passed away a few months ago. He looked like a purebread blue bicolor Ragdoll, and he probably was. You can't really tell if a cat is purebread without the breeding history, but Ragdoll breeders are a fairly protective bunch, so there aren't too many fakes out there. (Unlike, say, Persians.) Based on our experiences with Dozer, my wife and I decided that we must always have a Ragdoll cat.
After a period of grieving, we began looking at web sites for Ragdoll kitten breeders, trying to decide what kind of Ragdoll we wanted. My wife fell in love with the blue lynx pattern, and we found a couple of blue lynx kittens at Dr. J's Perfect Dolls. Last Friday, we met with Jennifer Woll, DVM, and took home a kitten. Check out the expression on his face in this shot:
As usual, we had some trouble coming up with the name. Because he's so cute, it's tempting to name him "Nermal," but he'll eventually grow up, and "Nermal" is a silly name for a grown-up cat. We could also name him "Joel," after the kitten in The Closer, but that too seems like a silly name for a full-size cat.
My wife likes "Roark," after Eve Dallas's love interest in the In Death series by J.D. Robb, which would also tie in nicely with my libertarian leanings because of the link to Howard Roark in The Fountainhead. On the other hand, "Roark" sounds a bit pretentious to me, and I'm not really a Rand fan. Alternatively, we could name him "Dallas" after Eve Dallas and also after the captain of the Nostromo in Alien.
For now, he's Hotch, named after Aaron Hotchner, the character Thomas Gibson plays on Criminal Minds. Among other things, it has the advantage of being a single syllable, which means it might be possible to train him to respond to it.
It could happen.
[Update: We renamed him "Beezle" (includes video of him playing).]
Anyway, we have the kitten locked in the master bathroom for a few days as part of the process of introducing him to the rest of the household. He's a bundle of energy, so I thought it would be amusing to setup the video camera to record his activity until it ran out of space, then I could edit it into a fun highlights video. As it turns out, however, all that energy is just for show. With no one watching, he just slept for an hour and a half.
I managed to salvage something, however, by compressing the video timeline. Here's Hotch asleep for an hour and a half, shown at 50 times normal speed:
If you haven't had enough, here's the whole set of photos of Hotch.