So this Park Forest cop shoots a dog. It's a family dog, Princess, with two children in the house, so I think we can assume it wasn't too vicious. To be fair, the dog was a mixed German Shepard/pit bull, so it probably looked scary.
As is common with family dogs that are shot by cops, it was shot in front of its family, Tracy Walker and her 12-year-old son. According to Walker, it happened like this:
Thinking that the dog needed relieve herself, Walker's son opened the door, and Princess escaped.

Park Forest Deputy Police Chief Mike McNamara said the dog ran toward the detective.

"He was yelling (to Walker's family) 'Get your dog! get your dog!' " McNamara said.

The dog initially went past the detective, then turned and lunged back at him, McNamara said.

"He pulled out his service revolver and (shot) the dog in the head," McNamara said.

Walker said the bleeding dog crawled back into the house, spilling blood everywhere, including on the hands of Walker's two stunned children.

Walker said the dog was brought to a local veterinarian for emergency care but later was pronounced dead after losing too much blood.
A few other details really paint the picture. The detective who shot the dog had entered the Walkers' yard uninvited. But for being there on police business, he would have been trespassing. So he shot Princess in her own yard.
Also, he was in the yard with two other police officers, one of whom was also the department's dog handler.
I'm asking this as a serious question: Do cops get any sort of training in how to deal with dogs?
I'm sure they do, but this stuff keeps happening.
Some of the commenters at the Southtown Star web site are blaming the family. It's mostly the usual stuff, but this was interesting:
bbnguy815 wrote:

It's a sad story and tragic for the family but I can't say I blame the cop. Why do people feel it's ok to let their dog out of the house without a leash? Either get a fence or take the dog out for a walk. I used to deliver mail. People always said "my dog won't hurt anyone". Maybe the dog won't hurt you, the owner, but if it feels threatened it will hurt whatever it thinks is a threat. I hope this is a lesson learned for pet owners to be more responsible.
Point #1: Maybe bbnguy815 should consider a career in law enforcement. After all, as a postal worker he dealt with scary dogs all the time and never had to shoot any of them.
Point #2: Regarding the "get a fence" remark, I did a little research on the web, and I could be totally wrong…but I don't think so. See if you can pick out the Walker family's home in this aerial photo. Go ahead, take a guess. (click the picture to see a larger image)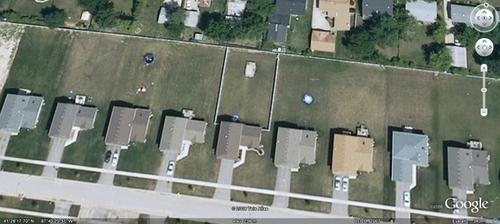 Before I end this post, I should mention that it's hard to rely on media accounts of shootings because most reporters are unfamiliar with the legal and moral thinking behind pulling the trigger, and the subjects of the story usually have a strong incentive to lie. So it's only fair to note that the shooter could have had a very good reason for doing what he did.
Now for a point of order. With this post, I realized that I had enough material to start a whole new department here at Windypundit. It's a very sad department. Check the top of this post.
Update: Just to make this clear, I'm not saying the detective did anything illegal or even really wrong here on a personal basis. For all I know, he's encountered hundreds of dogs before, and he had a good, solid reason to believe this dog intended to harm him.
Nevertheless, this is a failure: Through no fault of their own, the Walker family is out one dog; they are pissed off at the police, and I'm guessing their neighbors are pissed off in sympathy. That doesn't exactly help the police with their public safety mission.
Also, it looks like they never caught the burglar they were looking for.